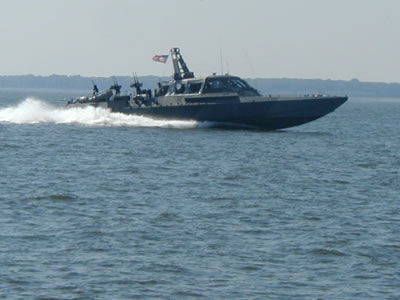 ISLAMABAD: The
United States government
donated five maritime interdiction patrol boats to Pakistan's Maritime Security Agency (MSA) at the Karachi shipyard today, significantly enhancing the agency's coastal interdiction and patrol capabilities.
U.S. Army Brig. Gen. Michael Nagata, U.S. Office of the Defense Representative-Pakistan deputy commander, officially donated the 13-meter (42-foot) Fast Patrol Boats to Rear Admiral Tahseen Ullah Khan, MSA Director General, during a hand-over ceremony in Karachi. The event was attended by Mr. Steve Fakan, U.S. Consul General to Karachi, and more than a dozen U.S. and Pakistani military representatives.
Each of the new vessels are equipped with two 565-horsepower Caterpillar diesel engines that enable them to operate in inclement weather up to 300 nautical miles offshore with a maximum speed of 72+ KPH (45+ MPH). Known as Fast Patrol Boats, they greatly increase the MSA's ability to patrol Pakistan's coastal waters and conduct a wide range ofmaritime operations.
The U.S. government will donate four more Fast Patrol Boats to the MSA later this year. In total, the nine boats and spare parts are valued at approximately $10 million.
"These patrol boats are a gift from the United States to support Pakistan's Maritime Security Agency to assist them in their critical mission as they protect and serve the people of Pakistan," said Brig. Gen. Nagata. "Whether it's search and rescue, combating smugglers, preventing crime or protecting Pakistan's coastal areas, we hope the increased capabilities these boats provide greatly enhance the MSA's ability to conduct the full spectrum ofmaritime operations."
During the last three years, U.S. civilian and security assistance to Pakistan has totaled more than $4 billion.
Assistance provided and delivered has included support for medical aid, school refurbishment, bridge and well reconstruction, food distribution, agricultural and education projects, 14 F-16 fighter aircraft, 10 Mi-17 helicopters, more than 450 vehicles for Pakistan's Frontier Corps, hundreds of night vision goggles, day/night scopes, radios, and thousands of protective vests and first-aid items for Pakistan'ssecurity forces.
In addition, the U.S. funded and provided training for more than 370 Pakistani military officers in a wide range of leadership and development programs covering topics such as counterterrorism, intelligence, logistics, medical, flight safety, and military law.